July, 2010
-------------------
07.2.10
Well, I dont even know what to say, it's been 2 years since i've really posted any work on the internet. But seeing as how I have an art show coming up, I need to really get back at the whole art for at least 3 hours a day. I really wish I didn't have to work, then I could have time to sell art, and teach it, or even just do more of it and learn as much as possible.... C'mon lottery, send a lucky ticket my way! Anyways before I start working on the 3 or 4 paintings for the show, i'm going to warm up by finishing some of the old work I never got around to. So i'll be posting a bit more often ( I HOPE! ). By the way I am always open to commissions, so send some e-mails to my e-mail listed, or to jamie@jmarkusart.com - you can also reach me on AIM @
MarkusMan16

December, 2008
-------------------
12.1.08
Holy Sh*t, it's been like 7 months since i've updated my website... Well I have been in sort of an artistic slump, and havent drawn much. However, since then, i've started dating the most amazing girl I have ever met in my life. My whole outlook on life has been changed for the better, and thus, more inspiration to draw! Tonight I will be adding a few more pages to the site; Sketches, and Figure Studies. For those who do not wish to rummage through the pages to find out whats new, here are the thumbnails for the art i've added. Enjoy!! :)



June, 2008
-------------------
6.2.08
Well finally a decent update in my gallery... I uploaded a couple concepts, and a few drawings in the animal catagory, I also got some more art uploaded to my computer, and formatted for the site, which I will try to upload soon. Enjoy the new work!
May, 2008
-------------------
5.17.08
Heres just a little something I think you would all like. Of course the newer image is a WIP, but still my progress shows. Of course 7 years is a long time... but, whatever im done talkin, just check it out!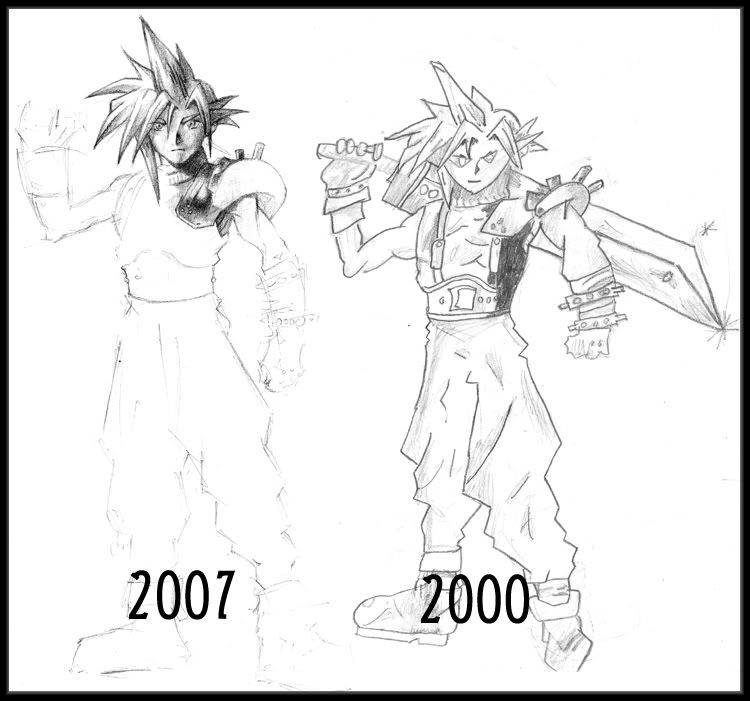 April, 2008
-------------------
4.13.08
Not updating just yet, but im just posting to let you all know im still alive. I have been drawing, painting, sketching, and whatever else-ing my ass off! Nowadays time is of the essence... A couple days ago I got a new full time job, and my old full time job will be part time. So I will be working around 60-70 hr. workweeks! Yikes... But this means I can finally save up for art school! And I can blow some money on lots and lots of new art supplies too! With this new job I get an hour off at 12 or 12:30 for lunch, so I will use that time to draw draw draw. Mostly in my sketchbook though, however I think im goin to be adding a sketchbook page, so you guys can see what I doodle throughout the weeks. Hopefully I will stop neglecting my website, and you will all have something to look at more often! Enjoy, and CHEERS!
February, 2008
-------------------
2.7.08
First update of 08, its been a while... Lots of life things have been keeping me from my art. Update today, a self portrait in the portraits section, and a creature design in the conceptual section. Thanks for lookin'!